Smart Arabic Keyboard online ❤️: Word Suggestions, Transliteration and Voice Recognition:
Smart Online Arabic Keyboard offers advanced features like word suggestions, transliteration, and voice recognition for a better Arabic typing experience.
And the new feature is an Arabic keyboard with emojis 😉, referring to a keyboard layout that enables users to input both Arabic text and emojis.
Whether you are a native speaker or a language learner, our goal is to provide you with in-depth knowledge to help you master using the Arabic keyboard with ease and efficiency.
Transliteration of Arabic punctuation (vocalization) and special characters:
| | | | | | | | | | | | |
| --- | --- | --- | --- | --- | --- | --- | --- | --- | --- | --- | --- |
| پ | چ | ڤ | ڢ | ڭ | | ُ | َ | ِ | ٌ | ً | ٍ |
| p | j' | f' | 'f | g' | | =o | =a | =i | =on | =an | =in |
How to use voice recognition (the Microphone)?
Choose the Arabic language.
Click on the microphone to start dictation.
Let our voice typing app use your microphone, click allow.
Not working for you? Make sure you are using the Google Chrome browser.

Note: iPhones and iPads are not supported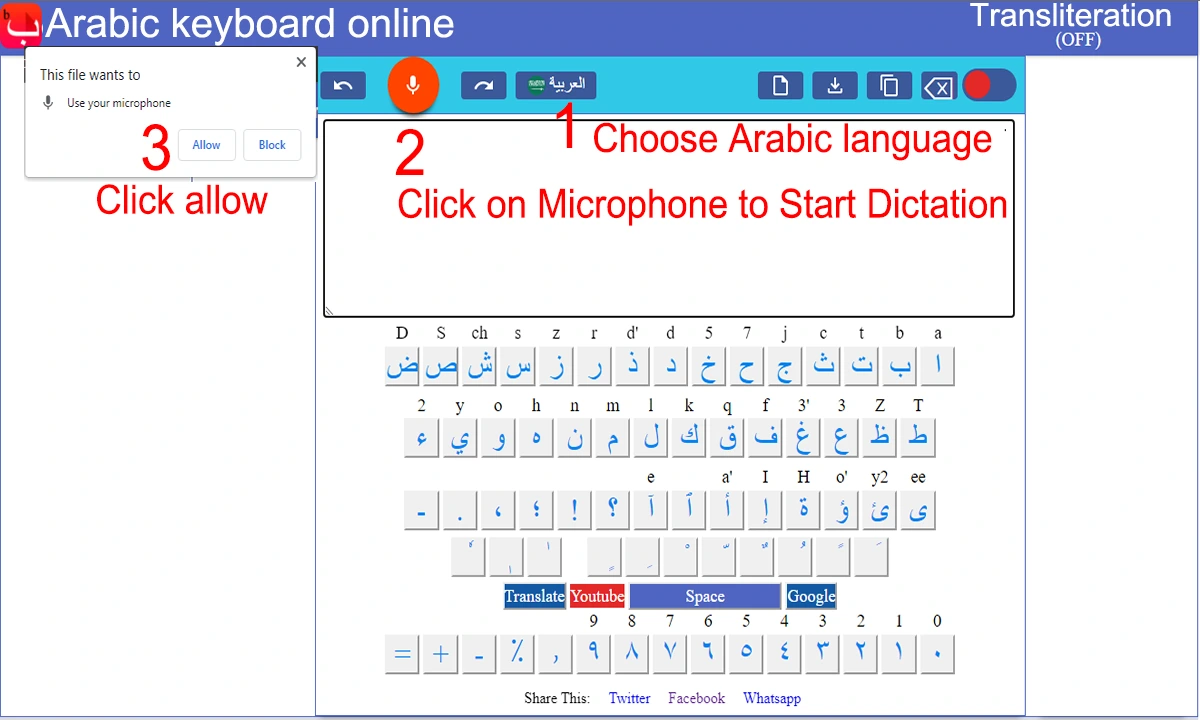 The Smart Arabic Keyboard: A Powerful Tool
1. The Importance of a Good Arabic Keyboard
The Arabic keyboard intelligent is much more than a simple text input tool. For the millions of people who speak Arabic around the world, it is a vital link between them and the digital world.
A good Arabic keyboard can significantly improve productivity, speed, and accuracy when typing in Arabic, which is especially important for professionals and students who depend on their native language for their daily activities.
2. Word Suggestions to Save Time
One of the most useful features of Smart Arabic Keyboard is word suggestion. Thanks to artificial intelligence algorithms, the keyboard can anticipate the words you are about to type and suggest them as you type. This allows for faster typing and reduces the risk of spelling errors.
Word suggestions are particularly useful for long or complex words, as well as for technical or specialized terms.
3. Transliteration: Ease of Writing
Transliteration is an interesting aspect of the Arabic keyboard, which allows users to enter text using the Latin alphabet rather than the Arabic script.
This is a very handy feature for those who are not yet familiar with the layout of Arabic characters on the keyboard. With transliteration, you can write in Arabic using the letters of the Latin alphabet, and the keyboard will automatically convert the text to Arabic script.
4. Voice Recognition: A Revolution for Users
Voice recognition or speech typing is one of the most exciting technological advancements in Arabic keyboards. With this feature, you can dictate your text rather than typing it, and the keyboard will convert it to written Arabic.
This is an ideal option for people who prefer talking to typing or for situations where manual text entry is not possible.
Thanks to this feature, writing in Arabic becomes faster and smoother. You can express your ideas and communicate in Arabic without any technical barriers.
Language: Arabic virtual keyboard
Improvements
We hope that this French online Arabic keyboard, with its word suggestions, transliteration and speech to text (voice typing), was helpful to you.
if you have any questions feel free to join our FAQs or leave us comments. Using an effective Arabic keyboard qwerty or azerty is essential to get the most out of your Arabic typing experience, whether for everyday, work or educational tasks.